Collecting tips using Chrome. More #ChromeTips.
Reopen tab you just closed
Cmd+Shift+T
Shortcuts in url bar
Open chrome://settings/searchEngines and add a new search engine like following: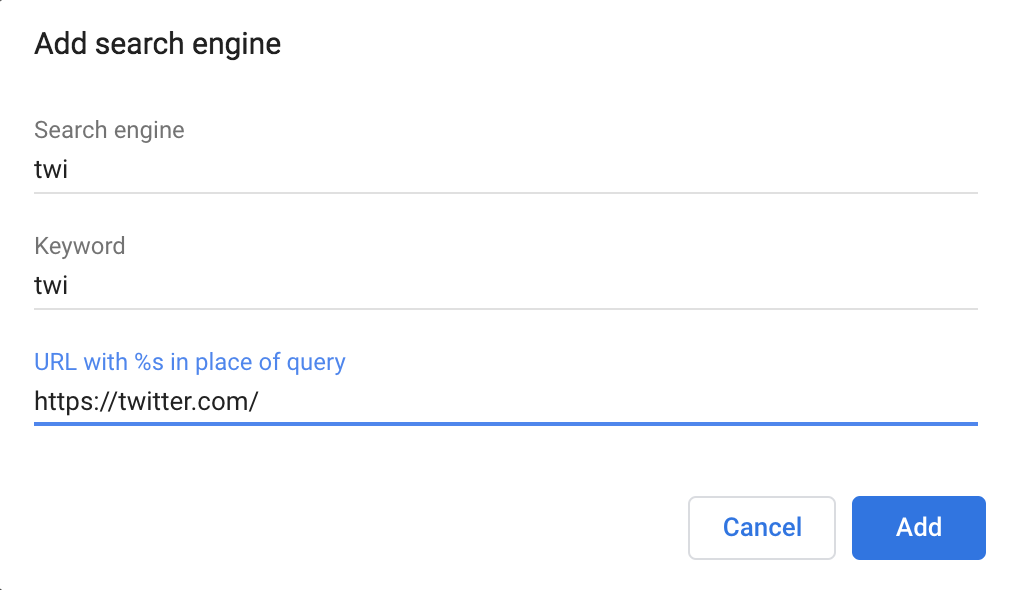 The Search engine name does not matter, the keyword is the shortcut.
When you type twi in URL bar, it automatically goes to your designated page!
In this case, go to https://twitter.com/.
Full Page Screenshots
https://developers.google.com/web/updates/2017/04/devtools-release-notes#screenshots
Screenshot of specific element
Awesome Chrome Dev Tools tip of the day: How to screenshot specific elements.

Find a page element in Inspect
Type CTRL + SHIFT + P
Type "node screenshot" and click on the "Capture Node Screenshot" result.

That specific DIV or element will download as a PNG. pic.twitter.com/naLYyaYG37

— Kane Jamison (@KaneJamison) September 4, 2018
Find unused JavaScript
https://web.dev/remove-unused-code/
Block request to measure impact
https://twitter.com/addyosmani/status/1091236845248073733
Debugging CSS Grid
Use Firefox.
Delete an entry from Chrome remembered URL
Fn + Shift + Backspace
Turn off insecure localhost warning
chrome://flags/#allow-insecure-localhost
Unregister Service Worker
chrome://serviceworker-internals/
Debugging Memory Leak
queryObjects

(

Promise

)




queryObjects

(

HTMLElement

)




queryObjects

(

function_name

)



Another useful tip for memory debugging (not mentioned in the article) is `queryObjects(SomeConstructor)`, which can be used from the DevTools Console: https://t.co/hBIje4Q8Fd https://t.co/LCwR0CBRnp pic.twitter.com/3JZIXafSmF

— Mathias Bynens (@mathias) February 22, 2020
Block certain request
Tip: @ChromeDevTools supports Network request blocking. Block URLs & domains to measure their impact on your site.

DevTools > top-right menu > More tools > Request blocking pic.twitter.com/qn28Bhf8tq

— Addy Osmani (@addyosmani) February 26, 2020
Turn off whatsnew in Devtools
In the devtools console (Option + ⌘ + J), press F1, then check off "Show What's New after each update".
Credits to @sj26.